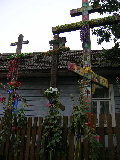 Orthodox crosses, author: Iwona Gudzak
Ethnic situation
Until the XIX century Podlasie was populated by
Poles
and
Jews
(towns), Polish speaking gentry and
Ruthenians
- Orthodox and Uniate Catholics - speaking a dialect related to modern
Belarusian
language. Because for some time in the medieval period the area was part of the Principality of Galicia-Volhynia, the local Slavic
Belarusian
dialects acquired a
Ukrainian
influence, and thus are sometimes mistakenly counted as "Ukrainian". In XIX century inhabitans of Podlasie found themselves in Russian Empire. Southern Podlasie formed a part of Russian controlled Congress Kingdom. After 1831 Russian authorities forbidden Uniate confession in Northern Podlasie and Eastern Rite disappeared from this area. In 1875 Russians forbidden this rite in southern Podlasie as well and all Uniate inhabitans were forced to accept Orthodox confession. But resistance of local people was surprisingly strong. Ruthenian speakers from this area never accepted Orthodox faith. As reaction to those measures Ruthenians of Podlasie began to identificate them with Polish national movement.
In 1912 Russian authorities issued tollerance edict which made possible to change confession from Orthodox to Roman Catholic (but not to Eastern Rite). Majority of inhabitans of Southern Podlasie changed their confession from Orthodox to Roman Catholic and quickly assimilated themselves with Poles. At present very few people continue speaking Ruthenian (Belarusian) and almost all consider themselves as Poles.
Very different situation exists in Northern Podlasie. The area west of Białystok has been populated by Polish speaking majority for centuries. Eastern part of the area has ethnically mixed population. In Bielsk Podlaski area there is an Belarusian-speaking majority. The counties along the border with Belarus are populated by
Belarusians
. There is a small Tatar minority as well.